---
---
Earth Love Fund raises funds and awareness to support environmental conservation projects in tropical rainforests and endangered forests worldwide. Through this work ELF also helps to empower and support indigenous communities, aiding their sustainable development and traditional ways of life.
---
U'WAS LAST STAND
The U'wa are a tribe of 5000 who have been living in the cloud forests of the Colombian Andes for thousands of years. They are known as "the thinking people" or "the people who speak well," because they have always succeeded in maintaining peaceful relationships with surrounding tribes. Four hundred years ago the Conquistadores invaded Columbia and the U'wa tribe was placed under threat by gold miners, who wanted to displace them from their land and turn them into slaves. The U'wa refused and hundreds of them committed mass suicide by hurling themselves from a cliff. They chose to die rather than becoming slaves and see their culture destroyed.
After centuries of conquest and colonisation, the U'wa have managed to maintain their traditional government, language and social structure. U'wa elders and medicine people still have little, if any contact with the outside world. Most only speak "Uw ajka," their native tongue, which means "the soul of people."
About ten years ago the U'wa started to oppose oil development in their ancestral lands by Occidental Petroleum (Oxy). Oil occupies a special place in U'wa cosmology. They believe that oil is the blood of the earth and to extract it is equivalent to committing matricide. For the U'wa there is no separation between them and the environment, because the earth is their mother and they exist to protect her. Oil development presents a threat to everything the U'wa hold sacred: their ancient territory, their dignity as a people and their lives. Furthermore it will draw violence into their homes. In Columbia oil and violence are closely linked as where the oil companies go, the guerillas and paramilitaries are quick to follow. Over 124 indigenous leaders have been killed since 1992. FARC, a main Colombian guerrilla group has admitted to the murder of the coordinator of the U'wa Defense Working Group, 24 year old Terence Freitas and his colleagues from North America in March 1999.
Recently the U'wa situation has worsened dramatically and they are calling for the support of the international community. In May the oil company has finally been granted an environmental licence to drill. The Columbian military had already entered the U'wa territory earlier on and as a result of a confrontation with the tribe, four U'wa children have died.
The latest news is that on June 24th the army and riot police violently attacked the U'wa, after their request of entering the traditional U'wa territory had been peacefully accepted by the indigenous people. The U'wa community reports that people and children are injured, some of them have been hospitalized and there is fear of further fatal consequences. The attack was extremely violent and undertaken completely by surprise. The anti-riot police used tear gas and physically attacked the peaceful demonstrators. Thousands in Columbia are supporting the U'wa including campesinos, students, union members, school communities, Columbian NGOs and indigenous organisations.
Berito Kuwar U'wa, representative of the U'wa tribe, visited Europe in April and attended meetings with the United Nations and European Parliament to gain support to protect the U'wa's ancestral lands. The Earth Love Fund has funded his visit to the UK, during which Berito has also attended a recording session of the ELF forthcoming multi-artists benefit single in support of the U'WA tribe.
The U'wa say they will oppose oil exploitation until the end. However, they can not continue to actively resist without additional funds.
The Earth Love Fund provides support and funds for the U'wa. Please click here to make a donation.
---
Earth Love Fund (ELF) was founded in 1989 by three individuals from the music world: Vic Coppersmith-Heaven, Nick Glennie-Smith and Kenny Young. Its initial aim was to enlist the support of musicians and artists for rainforest conservation.
Since then, ELF has become an established non-profit organisation which encourages artists from all walks of life to give something back to the environment. To date, the charity has raised funds through the arts for over one hundred conservation projects around the world.
Click here for more information.
---
MUSIC HISTORY
Earth Love Fund's first initiative was to recruit major music stars to sing and record a track entitled "Spirit of the Forest" composed by one of the founding trustees, Kenny Young. More than sixty artists participated, including Bonnie Raitt, LL Cool J, Ringo Starr, Pink Floyd, B52s, Lennie Kravitz, Joni Mitchell, and Belinda Carlisle. The Spirit of the Forest music video was launched in 1989 at the UN World Environment Day and was world telecast to an audience of over 1 billion people.
The Fund's first album, Earthrise: The Rainforest Album, was the official album for the Earth Summit in 1992 and featured artists including U2, REM, Paul McCartney, Sting, Peter Gabriel and Paul Simon. It reached number one in the UK charts and the top ten in many other countries. The funds raised from this and three further compilation albums (Earthrise II: Artists for the Environment; Earthtrance and Rock the Planet) have been used in support of conservation work in rainforest regions, primarily through working with local communities.
Since 1992, ELF has also received regular donations for its conservation projects from exhibitors of fine art, and in 1995 this led to the formation of the Artists for the Environment campaign. In June 1998 Earth Love Fund held its first annual Artists for the Environment Week, during which artists were asked to dedicate events to raise funds and awareness for global environmental issues.
---
THE ARTISTS FOR THE ENVIRONMENT (AFTE) PROGRAMME
Educates the public about environmental issues
Strengthens community spirit around the UK
Provides access to the arts for people who might not normally get involved
Fundraises for community-based conservation projects in endangered forests regions around the world
Motivates people to make a difference to do what they can to lessen the environmental impact on their own lives
ELF co-ordinates the Artists for the Environment (AFTE) programme, a unique awareness raising programme which enlists the arts to celebrate the beauty and importance of the world's forests and helps to ensure their future. AFTE combines music, art, sculpture, poetry with communities, school and environmental education to raise awareness and funds for worldwide forest conservation. AFTE provides small grants (£250-500) to community groups and artists around the UK as start-up funds for arts projects which highlight the connections between modern lifestyles and forests worldwide. AFTE projects seek to inspire a love and respect of forests that will stimulate individuals to make a difference.
For more information about the Artists for the Environment Programme, please click here.
---
WHY SAVE THE RAINFORESTS?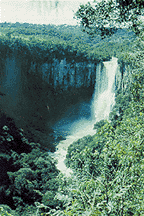 To date, Earth Love Fund's focus has been on giving support to communities in rainforest areas. Rainforests may seem a long way away, but some of the main threats to rainforests have been created by the demand of the industrialised world for raw materials. Foods, medicines, timber, rubber, much of our oil and minerals...half the world's population now lives in cities, but we still depend on forests for our daily needs. It is up to each of us to be aware of the effects of our lifestyles and to try to give something back to forests at home and abroad. ELF offers a means for members of the public and particularly artists to do so.
Tropical deforestation is presently estimated at an incredible 12,600,000 hectares a year. Tropical forests are an essential part of the Earth's metabolism and it is widely accepted that mankind has already upset the ecological balance of the planet. Saving tropical forests is not just a romantic ideal of tree-huggers and bug-collectors but a vital responsibility for all of us, if our children are to inherit a healthy planet.
---
HOW DO WE HELP SAVE FORESTS?
We believe that the best way to help save the forests is in partnership with forest people. There are two reasons for this -- one ethical, one practical. Ethically, the people with the greatest right to decide the future of forests are the people who have lived there for generations. Practically, forests have the best chances of survival if the people on the ground are committed to their conservation. Governments and international organisations -- let alone conservation groups -- may rise and fall, but if forests directly benefit local communities, their future is more secure.
Earth Love Fund gives small start-up grants to projects which reflect this approach.
<! -- begin breakout box -->

Click Here!

<! -- end breakout box --> <! -- begin text selections -->
---
ELF Home | Conservation Projects | Music Projects
Friends of ELF | Get Involved | Make A Donation
E-Mail ELF

<! -- end text selections -->
---
<! -- begin credits --> <! -- end credits -->
<! -- end main r -->